Yesterday went really well. I woke up early and I don't believe I stopped all day long. I was done when I went to bed last night. Before everyone got here,Little C put her crown on Princess and I just had to take a picture of it. (psst...ignore the nasty floors,they haven't been replaced yet)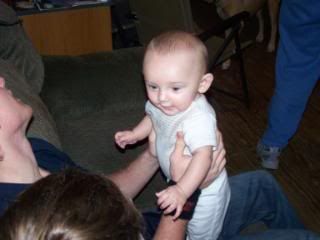 My brother and his girlfriend. He and I are on the road to mending our relationship. He talked with me yesterday and apologized to me for what he did. That's a start and we can only move forward with the Lords help.
John just had to snap this one of me working in the kitchen. LOL Silly man!
The little man eating!
He was so curious about everything. Looking around and taking in new people and things. He even liked Princess. LOL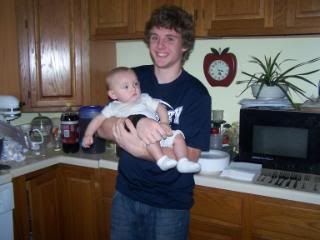 J holding the little one,he's still a bit awkward holding babies. LOL
And before I close this post....... MY BOY IS NOW 16! He had his birth day on Wednesday. We had a party for him with his friends Saturday,then went out of town on Sunday,he stayed with one of his best friends Tuesday,Thanksgiving Thursday and then a get together with grandparents is scheduled for Sunday! WHEW!
I hope that your Thanksgiving was blessed no matter where you are.
God Bless